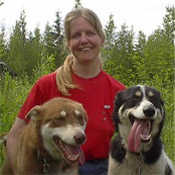 DOGGY DAY CARE / PLAY GROUPS / BETCO – DOG BEHAVIOR,/TRAINING, AGILITY & OTHER DOG SPORTS!












Claudia Sihler CPDT-KSA
Phone (907) 357-2521

1400 Regine Ave
Wasilla, Alaska 99654




Full Member


Member




Mushing


Schedule a private lesson with Frank Sihler, Iditarod finisher, to learn everything about mushing. You can do it with just 1-4 dogs! Frank has over 20 years of experience in mushing and teaching clients how to mush with a small team. He was one of the founders of the first mushing school in Germany, and continued this passion in Finland and now Alaska.

Call Frank at (907) 841-7468 for more info and to schedule your first lesson!

We also have mushing equipment for sale.

You'll learn:

What equipment do I need? Connecting the dogs to the sled, the harness, booties, musher's gear
Making your own lines from polyrope (material will be provided)
The sled – parts, types, driving techniques
Practical training – sled pulled by snowmachine
Safely hooking up the dog(s), "Line Out!"-command
Practice with your own dog team (1-2 dogs)
Teaching the dog(s) to pull despite handler being behind them on the sled
Safe mushing – uphill, downhill, curves, other teams
How to teach directions
After the run: checking the dogs for injuries – what if?


Copyright © 2003 The Better Companion, All Rights Reserved
Website designed and hosted by
Alaska Web Designs