DOGGY DAY CARE / PLAY GROUPS / BETCO – DOG BEHAVIOR, TRAINING, AGILITY & OTHER DOG SPORTS!
| | | |
| --- | --- | --- |
| | | |
1400 Regine Ave, Wasilla, Alaska 99654 (907) 357-2521

Our Training Facility!



Our training facility; including a heated building large enough to hold all our classes or even APDT Rally trials, an office, kennel area, lobby and restroom is located on Fairview Loop Rd about midway between Knik Goose Bay Rd and the Hyer Road access. We also offer a large, securely fenced 10,000 sq-ft groomed-grass field that is in use for dog sports, some workshops and other activities as well as our weekly "Open Play Time" from late spring through fall as weather permits. We have a small store on site where you may purchase an assortment of supplies, treats, and training gear.

Want to rent our facility?

It is available for $25./hour please contact Claudia for rental details

Print Driving Directions - PDF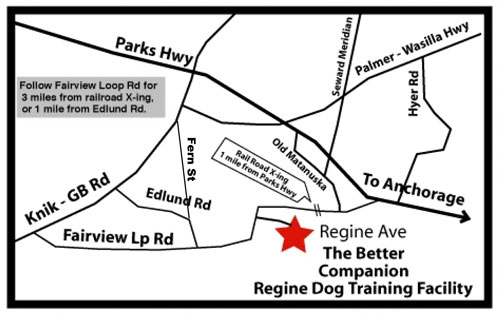 1400 Regine Ave

Regine Ave. is off mi 4.2 Fairview Loop Rd. It takes about 6 minutes from Wasilla WalMart.

You can enter Fairview Loop from anywhere and go to mi 4.2, then turn south onto Regine Ave. It's not too hard to find, and there are a thousand ways to get there. Here are some specific directions:

Coming from Palmer:
1. Take Seward Meridian Pkwy toward Wasilla.
2. Go past Walmart on Seward Meridian Pkwy to the end.
3. At the "T" intersection, turn left onto Matanuska Spur Rd.
4. Take the first right onto Fairview Loop Rd and go about 2 miles.
5. There will be a sharp left turn on Fairview Loop Rd (and a 25mph sign) just before Regine Ave. Take a left onto Regine Ave.
6. Turn into the first driveway to your right.

Coming from Big Lake, Knik, West Wasilla, and North:
1. Take Knik Goose Bay Rd, and turn left onto Edlund.
2. Follow Edlund until it ends at Fairview Loop Rd (approx 2 mi)
3. Turn left onto Fairview Loop Rd., go about 1 mile.
4. Turn right onto Regine Ave. There is a large brick house at the SE corner. Regine Ave comes just BEFORE a sharp right turn on Fairview Loop.
5. Turn into the first driveway to your right.

Coming from Chugiak, Eagle River:
1. Take Parks Hwy northbound.
2. Exit at Hyer Road.
3. Turn left and cross under the Parks Hwy overpass.
4. Turn right (north) onto Fireweed at the "T" intersection. Go 3/10th of a mile.
5. Turn left onto Fairview Loop Rd. Go 1 mile to fork in the road. Take left fork over railroad tracks (this is still Fairview Loop Rd) . DO NOT take right fork uphill. Follow for about 2-3 more miles.
6. Watch for a sharp left turn (with a 25 mph sign) at approximately mile 4 of Fairview Loop Rd. Immediately after that curve to the left (mile 4.2), take a left into Regine Ave.
7. Turn into the first driveway to your right.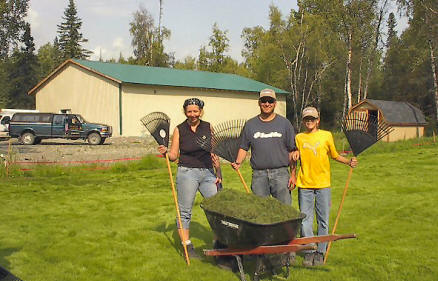 The outdoor training area
---

Copyright © 2003 The Better Companion, All Rights Reserved
Website designed and hosted by
Alaska Web Designs