Special Events & Workshops


Click on the event for more information
Responsible Dog Ownership – Day (RDO-Day!)
Date: Saturday September 8, 10am-4pm
Dog First Aid class
Date: TBA
Pet Partner® Therapy Dog Seminar
Date: TBA
Feisty Fido Workshop – for dog-reactive dogs
Date: Saturday 6/16/2018 @ 10:00 AM
Shy Dog workshop for shy dogs
Date: Saturday 6/9/2018 @ 2:00 PM
Recall Workshop (RC WS)
Date: TBA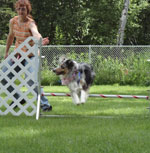 Agility Workshop: "Go Weave!"
Date: Saturday, 7-14-2018
Agility Workshop: "Contacts – Independent"
Date: TBA
Agility Workshop: "Jumping Jacks"
Date: TBA
Tellington TTouch – your healing and calming hands
Date: TBA
Weight Pulling Class
Date: TBA
Exercise and control your dog by having her pull the kids, your firewood, or anything else while on your walk. Teach your dog the fun of weight pulling and learn about the competition possibilities for your novice dog in the area.
Skijoring Workshop
DATE: TBA
Learn to ski with your dog! Teach your dog to run in front of you. This workshop will be part indoors and then outdoors on trail (at the dog training facility).
Want to give mushing a try but aren't sure how to start? Learn more about it here! Private lessons with Frank Sihler. Call (907) 841-7468 for info and to schedule.