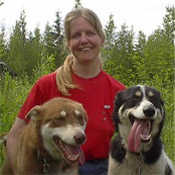 DOGGY DAY CARE / PLAY GROUPS / BETCO – DOG BEHAVIOR,/TRAINING, AGILITY & OTHER DOG SPORTS!












Claudia Sihler CPDT-KSA
Phone (907) 357-2521

1400 Regine Ave
Wasilla, Alaska 99654




Full Member


Member



Dog First Aid Seminar



Learn how to respond to health emergencies and provide basic first aid for the four-legged members of your family. Practice and preparation will help you be calm and effective in an emergency, protecting you and your dog from further injury or suffering.

Course length: 2 – 3 hours

Understanding basic pet owner responsibilities
Administering medicine
Managing breathing and cardiac emergencies
Managing urgent care situation
Treating wounds
Treating electrical shock
Caring for eye, foot and ear injuries
Preparing for disasters

Book and DVD are included with the class fee.


Copyright © 2003 The Better Companion, All Rights Reserved
Website designed and hosted by
Alaska Web Designs