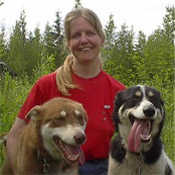 DOGGY DAY CARE / PLAY GROUPS / BETCO – DOG BEHAVIOR,/TRAINING, AGILITY & OTHER DOG SPORTS!












Claudia Sihler
CPDT-KSA, IAABC-ADT
Phone (907) 357-2521

1400 Regine Ave
Wasilla, Alaska 99654





Full Member

Approved Trainer

Member




Recall Workshop (RC WS)



Practice a better recall with your dog! We'll mix up short seminar sessions with lots of practical hands-on training, the latter mainly outdoors. We show you how to set your dog up for success, how to find the best reward for your dog, how to get your dog to WANT TO COME, and what to do when he doesn't.

This is a 4 hr workshop, 2:00-6:00pm; with part of this session outdoors, rain or shine.

Only people- and dog-friendly dogs at this point, please!

Maximum 6 dogs, payment will reserve your spot.


Copyright © 2003 The Better Companion, All Rights Reserved
Website designed and hosted by
Alaska Web Designs