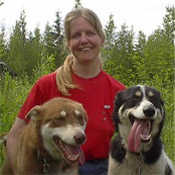 DOGGY DAY CARE / PLAY GROUPS / BETCO – DOG BEHAVIOR,/TRAINING, AGILITY & OTHER DOG SPORTS!












Claudia Sihler
CPDT-KSA, IAABC-ADT
Phone (907) 357-2521

1400 Regine Ave
Wasilla, Alaska 99654





Full Member

Approved Trainer

Member




"Shy Dog Workshop" for shy and insecure dogs.



We'll work with methods of Suzanne Clothier and other well established dog behavior specialists – to find the method that works best for you and your dog. We'll work with one dog at a time, all other dog owners being the 'strangers' for that dog. Dogs that aren't "on" can stay in the vehicle or in a crate inside if they can be relaxed and calm. You'll learn all perspectives and aspects of dealing with a shy dog, not only through the work with your own dog, but also by observing and being the stranger for other dogs. This will help you guide your friends/visitors even better when they meet your dog.

This is a 4-hr workshop.

Maximum 6 dogs, payment will reserve your spot.


Copyright © 2003 The Better Companion, All Rights Reserved
Website designed and hosted by
Alaska Web Designs